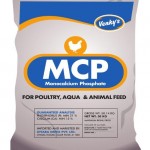 Safe & premium quality feed phosphate for Poultry, Cattle & Aqua.
BSE Free- Inorganic & high RBV value
Lowest % of Heavy metal – EU standard
IMPORTANCE OF HIGH QUALITY FEED PHOSPHATE:
Phosphorus, has important role in every phase of animal growth and production. It has many biological functions and is a key component in energy metabolism. It's required for Skeletal growth, formation, maintenance and Muscle tissue development.
Phosphorus plays a role in maintaining osmotic balance and acid-base buffering in blood when combined with other elements . In ruminants phosphorus is also required for rumen microorganisms
to digest cellulose and synthesize microbial protein.
Adequate dietary levels of phosphorus in livestock and poultry will help for faster growth, optimum performance and better livability.
Specification
| | |
| --- | --- |
| Total Phosphorus | 21.0% |
| Min. Calcium(Ca) | 15.0% |
| Min Fluorine(F) | 0.18% MAX |
| MOISTURE | 2%MAX |
| MESH Size | 20-150 |
Advantages
Granular form that provides superior blending capabilities and less waste due to airborne dust.
Dust free handling to keep feed mill's equipment and environment clean.
Produced from pure phosphatic raw materials to meet the standard phosphorus demand of Animals .
High in phosphorus content 21%p, provides flexibility and economy in formulations.
High gut solubility to ensure its superior biological value.
SERVICE and SUSTAINABILITY:
Short lead time and local distribution service supported by experience service team and
professional lab.
Supported by 300 million tons of phosphorus reserve partner.
APPEARANCE:
Uniform granular and light grey.
PACKAGING:
50 Kg bag.
STORAGE:
store in clean and dry condition, protected from light. Avoid source of combustion. SHELF LIFE:
The product is stable at least 2 years if store under recommended conditions in unopened original bag.