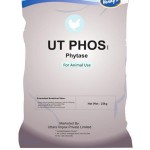 Compound Feed Additive Phytase Preparation in Powder & Mini Granular form.
Composition:
Each gram of UT PHOS contains E.Coli based Phytase enzyme, produce through submerged liquid fermentation
with high yield gene engineering strain.
Carrier (Wheat flour, corn starch)
Guaranteed Analytical Value:
| | |
| --- | --- |
| Phytase Activity | 5000 U/g |
| Moisture | 10 % Max |
| Density | 0.5-0.7g/cm3 |
Description:
UT PHOS degrades phytase phosphrous existing in vegetable ingredients of feed for poultry
& livestock, releases phosphrous & other nutritional substances.
Reduce environment pollution by lowering Phosphrous excretion through faeces.
UT PHOS has excellent stability, high biological efficiency, free flow & mix ability to improve the feed quality and reduce the cost of feed.
Directions:
This product is phytase preparation applicable to feed for livestock & Poultry.
Recommended dosages: 80-120 gm/ton in complete feed. (the dose should be adjust according to the animal growth phase, the feed raw material and phytate contain) balancing the Ca quantity with other source is important.
Cautions: premixing is necessary before adding to completed feed.
Packaging:
25Kg bag color coded in White.
Storage:
store in clean & dry condition, protected from light. Avoid source of combustion.


Shelf life:
The product is stable at least 1 years if store under recommended conditions in unopened original bag.
*COA available.