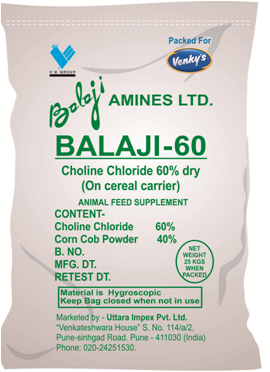 With the capacity to produce TMA, Balaji Amines becomes only integrated choline chloride (CC)
producer in India. TMA is the most important raw martial using to produce CC. By the experience of
28 years in amines industry Balaji Amines is giving the purest form of choline chloride for poultry.
The purity of choline chloride is define by its Hygroscopic nature.
Specification:
| | |
| --- | --- |
| Assay: NLT 60% | Moisture: NMT 03.00 % |
| TMA: NMT 00.05 % | Carrier: Corn Cob |
Advantages:
Prevent fatty liver syndrome
Prevent bone abnormality or perosis in chick
Improve body immunity system to prevent disease
Improve Carcass quality
Improve egg production
Packaging:
25Kg bag color coded in green.
Storage:
store in clean & dry condition, protected from light. Avoid source of combustion.


Shelf life:
The product is stable at least 1 years if store under recommended conditions in unopened original bag.
*COA available.